Improving the vehicle purchase and finance experience for Scotiabank Auto loan customers.
**Note: Because of confidentiality reasons, specifics about the product have been left out of this case study.

Project Timeline
January 2019 – April 2019 (Four months)
Research Methods
In-depth interviews, journey mapping activity, user testing
CLIENt
Scotiabank's Auto team
Team
Product owner, 2 UX designers, 1 UX researcher (me!), 2 data scientists, 2 back-end engineers, 2 front-end engineers
About Scotiabank FactoryU
FactoryU is Scotiabank's agile innovation lab located in the heart of Waterloo, Ontario; purposefully positioned away from the bank's downtown offices so that the team can focus on exploring the future of their products and services.
The Scotiabank FactoryU team receives problem statements, or more broadly problem spaces, from different lines of business in the bank and works towards researching and designing a solution in 4 months.
Challenge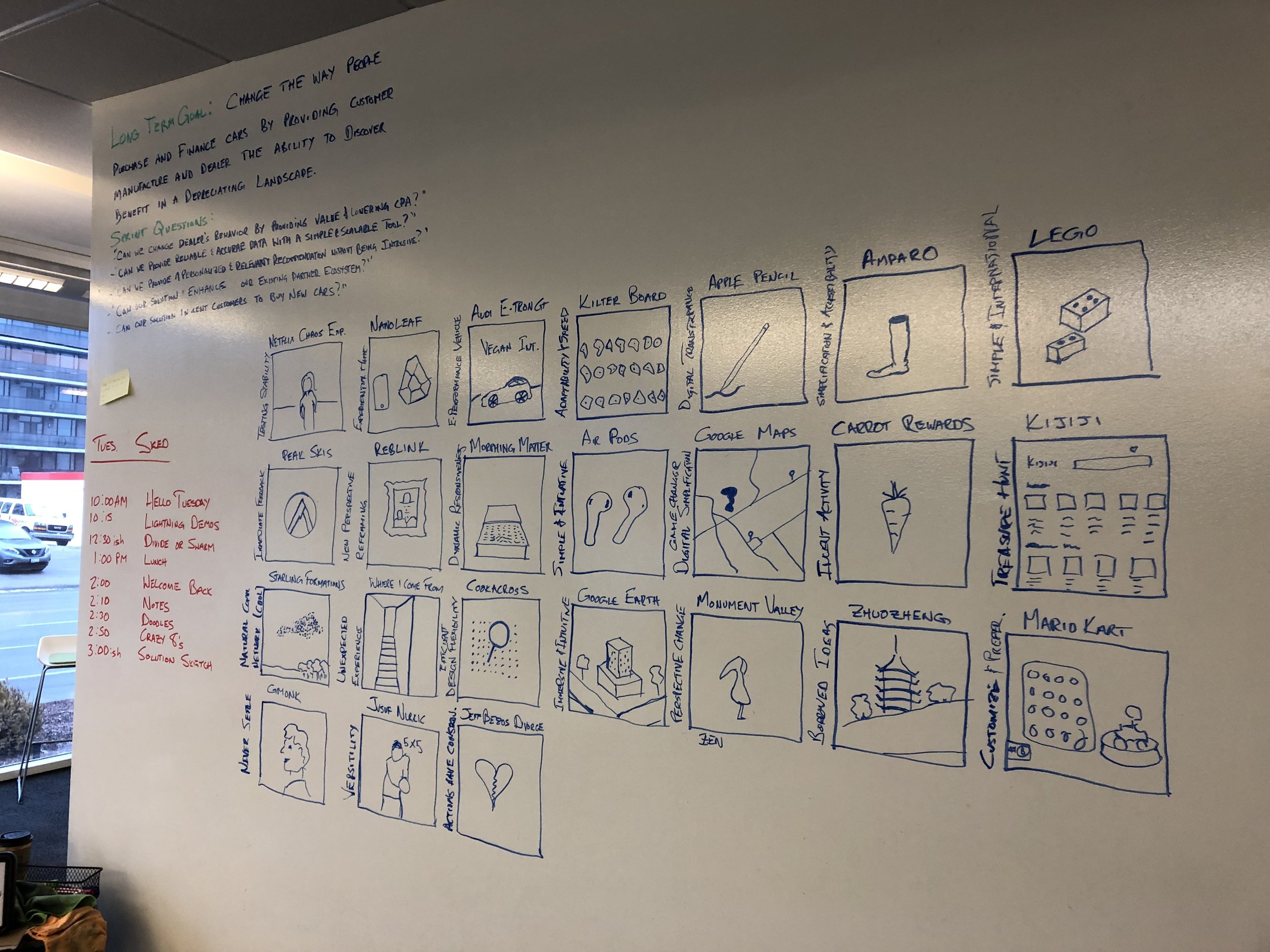 Scotiabank's auto loan group approached me and my team at FactoryU to explore opportunities for innovation and to design a product that helps maintain their position as the #1 auto loan provider in Canada.
My role
Throughout my four months on this project, I was the sole UX Researcher. I went into this project knowing absolutely nothing about the auto space, but came out eh-okay in the end! 😛
Some of my responsibilities included….
✍️ Writing user research plans, recruiting participants, and facilitating and analyzing research within a weekly sprint cadence
📝 Designing generative and evaluative research studies
🔍 Distilling research findings into actionable product design recommendations
🗣️ Presenting research artifacts, and design recommendations to stakeholders during weekly agile sprint demos
💬 Communicating the value of research and advocating for our customers' needs
Outcomes
The research I did resulted in
Customer needs being reflected in the product

Team understanding of the vehicle purchase and finance journey for auto loan customers

Stakeholder clarity around the strengths and limitations of different research methods

Prototype that is currently being built out by the auto loan business line; to be launched to auto customers by the end of summer 2019
Process
The entire research process was intense. Majority of my sprints were a week in length with a few exceptions being two weeks. This meant that I had to be a scrappy, but effective, researcher in order to get data in time for the next iteration. I've highlighted some key moments in the research process below. For the purposes of this case study, I'm going to share a bit of my process for Sprint 2 and Sprint 3.
Sprint 2 – Google Ventures Sprint
I participated in a Google Ventures (GV) Design sprint to kick off the project. On day 1 of the GV Sprint, my team and I landed on the following problem statement which highlights three key groups I needed to consider throughout the duration of the project. More about these groups below.
How might we change the way people purchase and finance cars by providing customer, manufacturer, and dealer the ability to discover benefit in a depreciating landscape?
Customers, manufacturers, dealers and Scotiabank
The auto purchase and finance process involves four key groups, each with their own unique set of goals and pain points. The goals and problems for each group were provided by the client.

Scotiabank
Provide auto loans to people who cannot afford to buy their vehicle outright and want to eventually own the vehicle (finance).
Goal(s): Increase # of returning auto finance customers, maintain position as #1 auto loan provider in Canada
Problem(s): Customers are not always aware of who their auto loan provider is and so they won't necessarily become a repeat customer.
Manufacturers
Build and sell vehicles to dealers (e.g. Mazda, Hyundai, Honda)
Goal(s): Sell vehicles to dealerships
Problem(s): If dealerships don't move vehicles off their lots (make sales), manufacturers won't be able to sell new makes and models to dealerships resulting in a loss in profit.
Customers
Existing Scotiabank loan customers who are currently financing their vehicle.
Goal(s): Eventually own their car
Problem(s): Hmmmm….. what is the customer problem?
Dealers
Sell cars to customers, and may provide their own loans. (For example, Hyundai Waterloo, Hyundai Toronto)
Goal(s): Sell vehicles to customers and make a profit, reduce cost per acquisition
Problem(s): Dealerships currently spend a lot of money sending promotional flyers to their customers in the hopes that they become repeat customers (aka cost per acquisition)
Key Assumption
At this stage in the project, our client had an assumption that a certain trigger would be a strong indicator that vehicle owners might be more likely to get into a new vehicle and thus generate new leads for the business (Scotiabank and dealers). This assumption needed to be explored and tested to make sure we were moving forward in the right direction.
Sprint 3 – Exploratory Research
After the GV Sprint, I realized that…
My team and I lacked an understanding of the customer vehicle purchase and finance journey, which was critical in order to effectively address the problems identified by our client (broader context is key)

There might be more than one trigger for an existing auto loan customer to get into a new vehicle, what other triggers might initiate a new purchase?

More importantly, the customer problem was unclear
I needed to take a step back from the problems provided to me and do some exploratory research.
Research Goals
Understand the customer purchase and finance journey

Identify and clarify customers' needs, expectations and pain points during the purchase and finance process

Identify purchase triggers (assumption is positive equity is a primary trigger for getting repeat finance customers)
Research Questions
What does the car purchase and finance journey look like for financing a vehicle?

Why do people get into a new car when they already own a vehicle?

Does positive equity factor into people's purchase decisions? Is positive equity a concept that is communicated to customers?
Interviews + Journey Mapping
Ideally I would have done a diary study and/or contextual interviews with customers, finance representatives and sales people in dealerships because the methods would allow me to glean deeper insight into peoples' experiences instead of relying on self-reported behaviour. Due to the confidentiality and project time constraints, I adapted my methods to in-office interviews paired with a journey mapping activity.
I paired interviews with a journey mapping activity to help participants recall and feel comfortable chatting about their personal experiences with me. I also paired these methods to help speed up the documentation and analysis process since I only had two days to complete analysis.
Key Insights
Positive equity is not a trigger for an existing auto loan customer to finance a new vehicle

People who are currently financing their vehicle are more likely to get into a replacement vehicle if their current vehicle breaks down completely or needs major repairs
Challenges
Due to project confidentiality, I was not given permission to do research with dealerships, resulting in a lack of understanding of dealerships' needs, pain points and expectations for a product that would directly affect their business. I overcame this challenge by finding a connection within the bank, who worked closely with dealerships, to understand their perspective
Adapting research methods to fit the iterative, low-resource and scrappy nature of FactoryU's work

Client had a solution in mind at the beginning of the project which made it difficult, albeit an exciting challenge, to advocate for doing research
Learnings
Writing a research plan does not always guarantee that everything will go smoothly. I learned to roll with the punches and adapt my plan quickly as things arise

Following user research methods straight from "the book" doesn't always work, methods need to be adapted to the environment I'm working in. I tried to stick to "the book" at the beginning of the project, but near the end of the project I became more comfortable with adapting my methods.